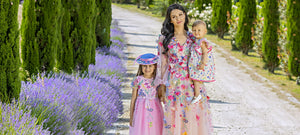 Making great designs for Girls and their Mothers accessible
Reinventing the childrenswear space, contemporary luxury label, Eirene has been at the forefront of changing how kidswear is perceived
Designed by the talented Irene, EIRENE gives a new flavour to traditional dresses and outfits for the younger girls. Back in 2017, Irene realized the world of kid's fashion was missing chic, fabulous, cutting-edge and inspiring clothes that the fashion-forward mothers would love and set out to launch her label EIRENE. Vibrant and chic, EIRENE mirrors luxury at its best. With immaculate attention to detail, each piece from EIRENE collection oozes a youthful elegance and luxury.
Having received global recognition in the form of Forbes and Harper's Bazaar, EIRENE has proven itself as an affordable luxury brand for girls and its collections are available in some of the world's most high-end department stores including TZUM Moscow, GUM Moscow, Saks Fifth Avenue Almaty & Astana, Les Galleries Lafayette Doha, 51 East Doha, as well as in multi-brand boutiques and online shops in over 20 countries.
Our Mission and Vision:
To offer the most unique clothes with modern visual identity with the commitment to exclusive design, craftsmanship and premium quality.
Why Choose EIRENE?
BOLD, DIFFERENT AND ARTISTIC
It couldn't be any different!
CREATIVE
EIRENE turns fairytales into reality thanks to its creative design team that is not afraid to experiment with ideas, fabrics, designs and cuts and as well as thanks to its skillful seamstresses. The team designs in-house bold prints as well as mix and match in a brave way luxury fabrics and trims that surprise the customer and stand-out from traditional designs. EIRENE collections maintain the timeless girl silhouettes while bridging fairytales and current trends in the high-end womenswear.
ELEGANT
EIRENE is a visionary project, modern and innovative which merges elegance, fine quality, craftsmanship and creativity. These are the brand's biggest qualities which allows it to grow in new markets. Each piece of garment is born to be cherished for years to come, creating unforgettable memories to pass on through the generations. 
QUALITY
EIRENE is constantly working on perfecting the tailoring, fit and cut of each garment, including couture-level detailing of luxurious fabrics. Most of the styles are finished by hand and are hand-embellished using experienced man craftsmanship power, that requires slow production schedule, creating an exquisite final product that takes up to 10 hours to produce one dress.